Austin Voters Approve Tax Measure to Help Fund $7.1B Project Connect Plan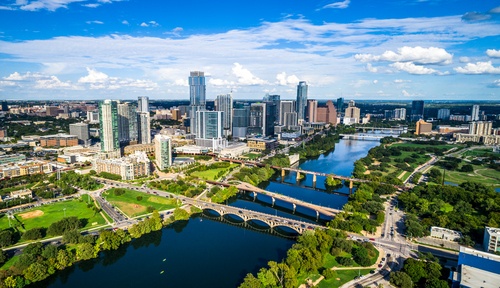 On November 3rd, Austin voters approved a property tax increase to help fund the $7.1 billion Project Connect mass transit project. The initial investment, which is a portion of the "Project Connect System Plan," includes 27 miles of rail service, 31 stations and a transit tunnel. Specific elements of the plan include:
Blue Line: An approximately 15-mile light rail line running from Austin-Bergstrom International Airport (AUS), connecting through the downtown station and running north to Lamar Boulevard at Highway 183
Orange Line: A 21-mile light rail line running from North Lamar Boulevard at Highway 183 south to Stassney Lane, connecting through Republic Square
Downtown Transit Tunnel: An underground tunnel that would run about six city blocks, west to east, from Republic Square to the Downtown Station near the Austin Convention Center
Green Line: New commuter rail service running from downtown to the Colony Park neighborhood in East Austin
Red Line: Expanded commuter rail service with new stations serving The Domain and the new soccer stadium at McKalla Place in North Austin
Gold Line: A new rapid bus route going from the Austin Community College Highland area, through the Downtown Station to the Republic Square Station, then south to a new South Congress Transit Center at Ben White Boulevard
MetroRapid bus routes: Four new MetroRapid bus routes, which are buses with frequent service and a limited number of stops
MetroExpress: Three new MetroExpress commuter routes providing limited stop services to downtown
Park & Rides: Nine new park & rides and one Transit Center
Neighborhood Zones for Circulators: 15 new zones that offer first-mile/last-mile service connections to help neighborhoods gain better access to the main transit lines
Anti-Displacement Measures: $300 million investment for anti-displacement measures that will help communities affected by transit line creation and construction, including transit-oriented developments and affordable housing along Project Connect routes
Project Connect consists of multiple projects that will be developed over time. Some of the projects, such as the Blue and Orange Lines, may take close to a decade to become operational. Other projects, including near-term Red Line improvements and two of the MetroRapid bus routes, are expected to be completed sooner since they are already under development.
Approximately 45% of the funding for the system is expected to come from federal grants. The rest of the funding will come from the tax revenue generated from Proposition A's 8.75-cent hike to Austin's property tax rate.
Now that Proposition A has passed, Austin Transit Partnership (a separate local government corporation formed jointly by the City of Austin and Capitol Metro) will be formed and establish a governing board for the purpose of developing Project Connect. The board will consist of five members - an Austin City Council member, a CapMetro board member and three community experts meeting certain qualifications related to finance, engineering and urban planning. The board is expected to be in place early next year and will immediately begin implementing the plan, including commencing the environmental review process.
Many critical details need to be worked out for implementation of the plan, including the final engineering of the system, the logistics of a downtown tunnel and the plan for addressing transit-related displacement, which is a priority for Project planners. However, the passage of Proposition A is a major step toward bringing the sophisticated, multi-model transit system to Austin.
Partner

With over 25 years of experience, Patricia de la Peña has played a key role in delivering many of the largest transportation projects in Texas and the U.S through innovative methods. She assists clients in developing successful ...
Nossaman's 30-plus infrastructure attorneys offer clients, colleagues, strategic partners and industry media a wealth of practical experience, insider insight and thoughtful analysis here on Infra Insight. We blog about what we know best, from industry-leading procurements to local and national policy developments that affect the market and our clients.
Stay Connected

RSS Feed
Categories
Archives
View All Nossaman Blogs