FHWA Issues FONSI for MTA's Central Business District Tolling Program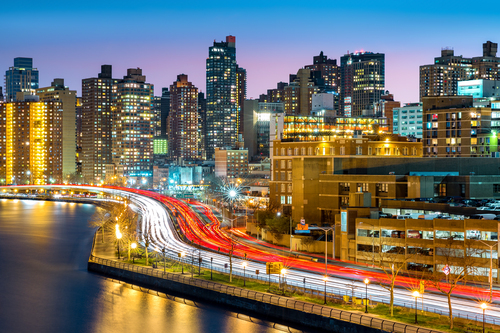 The first urban-core tolling program in the United States marked a major milestone. In late June, the Federal Highway Administration (FHWA) concluded its environmental assessment of the Metropolitan Transportation Authority's (MTA) Central Business District (CBD) Tolling Program and issued a Finding of No Significant Impact (FONSI). This federal determination will allow the program to move forward into implementation.
Similar to programs that have been successfully implemented to manage congestion in other large cities such as London, Stockholm and Singapore, the CBD Tolling Program aims to reduce traffic in and around the central business district of Manhattan. Under the CBD Tolling Program, vehicles that enter and remain in the central business district, one of the most congested areas in the country, will be tolled through a cashless tolling system. Such tolls will be variable, meaning higher amounts will be charged during peak periods of congestion, and will apply to all registered vehicles with the exception of qualifying emergency vehicles and vehicles transporting persons with disabilities. Passenger vehicles, such as taxis and for-hire vehicles, will be tolled no more than once a day, and a reduced overnight toll rate will be applied from at least 12:00 a.m. to 4:00 a.m. Discounts and tax credits will also be available for qualifying drivers and residents based on income and frequency of travel.
In addition to alleviating congestion and improving air quality, the CBD Tolling Program will also support the MTA's 2020-2024 Capital Plan, which identifies $52 billion of investments in the region's buses, subways and commuter railroads. Revenues from the CBD Tolling Program will be split between New York City Transit (80%), Long Island Rail Road (10%) and Metro-North Railroad (10%) to maintain and modernize the existing transit system, to improve the accessibility and reliability of the system and to promote transportation equity for underserved communities.
The CBD Tolling Program is sponsored by the New York State Department of Transportation, the New York City Department of Transportation and the Triborough Bridge and Tunnel Authority (TBTA)—the MTA agency tasked by law to develop and run the CBD Tolling Program. Before toll collection may begin, the TBTA must adopt a recommended tolling structure, including toll amounts, that takes into consideration anticipated traffic patterns, air quality and emissions, operating costs, public impact and public safety.
Based on the expected timeline for the TBTA's adoption of a tolling structure, toll collection for Manhattan's central business district could begin as early as May 2024.
The CBD Tolling Program is not the only effort to protect the environment and utilize existing transportation assets more efficiently. Other U.S. agencies, including the Los Angeles County Metropolitan Transportation Authority and the San Francisco County Transportation Authority, have also investigated opportunities to use urban core congestion pricing, but MTA's program is the first to be approved.
Partner

Shant Boyajian advises public agencies on a wide range of innovative methods to procure and deliver the nation's largest, most complex infrastructure projects. Clients have found tremendous value in his deep experience in ...

Partner

Frank Liu helps public agencies use innovative procurement methods to deliver highly complex and large-scale airport, highway, bridge, tunnel, transit and social infrastructure projects.

His work spans every step of the ...
Nossaman's 30-plus infrastructure attorneys offer clients, colleagues, strategic partners and industry media a wealth of practical experience, insider insight and thoughtful analysis here on Infra Insight. We blog about what we know best, from industry-leading procurements to local and national policy developments that affect the market and our clients.
Stay Connected
RSS Feed
Categories
Archives
View All Nossaman Blogs