Integrating Infrastructure and Community to Revitalize the L.A. River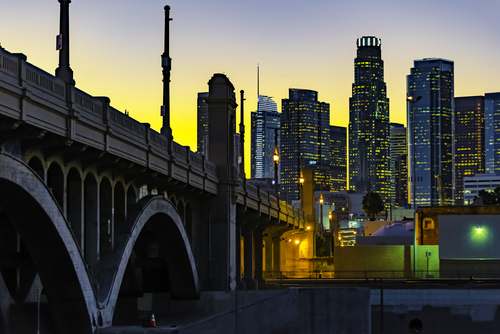 Los Angeles County aims to integrate infrastructure planning with social and environmental needs in its recently released draft of the updated L.A. River Master Plan.
The plan is the first to cover the entire L.A. River and proposes a 51-mile connected open space to manage floodwaters while improving natural ecosystems and public wellbeing. Calculations based on information from the US Census Bureau indicate that 25% of Californians live within a 30-minute drive of the LA River and over one million people live within one mile.
The plan represents a combined effort by L.A. County Public Works, Geosyntec, OLIN and Gehry Partners. Geosyntec, the prime consultant on the team, was selected through a competitive process and assembled a team that included architect Frank Gehry and landscape architect Laurie Olin. Using research and data, the plan's authors assessed specific community needs along the river and identified a myriad of potential projects to help rejuvenate the waterway that stretches through the heart of Los Angeles.
According to a Los Angeles County website, the plan identifies over 200 potential project sites and is meant to serve as a development roadmap for the next 25 years. The cadence of these projects along the river corridor is intended to ensure an equitable and accessible distribution among adjacent communities. Recognizing a desperate need for investment in communities along the L.A. River, Supervisor Hilda L. Solis recently observed "park-poor neighborhoods have always had the Los Angeles River in their backyard, but up until now, they have had their backs turned to it. The Los Angeles River Master Plan will encourage residents to turn around and embrace the river as part of their homes."
Based on research of comparable precedents, the plan describes an estimated budget range of $19 to $24 billion to implement its various projects over a 25-year period. To procure construction services, materials, suppliers, maintenance operators and concessionaires, the plan suggests fair trade bidding processes and describes methods to increase opportunities for participation by small businesses.
The plan's design guidelines require every project to have a 3-year maintenance plan in place and a named entity for ongoing maintenance of any proposed project. Maintenance costs for the L.A. River are estimated to range from $1.5 to $3 million per river mile annually.
To fund the projects, the plan identifies certain existing opportunities, including:
an L.A. River bond measure to create a dedicated source of revenue over a 25 to 30+ year period;
an enhanced infrastructure finance district to provide long-term revenue to finance public capital facilities, including affordable housing; and
appropriations and direct funding from state member items, state and municipal budgets, and federal appropriations to provide short-term funding for the plan's revitalization efforts.
The plan also acknowledges that additional funding opportunities could be viable after further research and targeted conversations with experts.
The draft plan is available to view and open for public comment until March 14, 2021 at larivermasterplan.org.
Partner

For more than 18 years, Elizabeth Cousins has advised clients on an array of important infrastructure projects delivered through public-private partnerships (P3s), progressive and fixed price design-build ...
Nossaman's 30-plus infrastructure attorneys offer clients, colleagues, strategic partners and industry media a wealth of practical experience, insider insight and thoughtful analysis here on Infra Insight. We blog about what we know best, from industry-leading procurements to local and national policy developments that affect the market and our clients.
Stay Connected

RSS Feed
Categories
Archives
View All Nossaman Blogs