Lest the Hopeful News Gets Lost: How CECorps is Providing Hope to Underserved Communities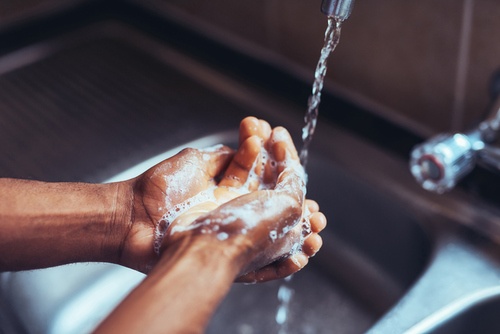 As we continue to navigate the far-reaching impacts of the global coronavirus pandemic, our work and commitment to assisting marginalized and underserved communities with critical infrastructure is more important than ever.
The Centers for Disease Control and Prevention (CDC) and World Health Organization (WHO) have been recommending handwashing as one of the easiest and most effective ways to prevent the spread of COVID-19 for months. However, according to the U.S. Water Alliance's Closing the Water Access Gap in the United States report, approximately two million Americans lack access to running water, indoor plumbing, or wastewater services. COVID-19 provides a stark reminder of the vulnerability of certain populations when they lack access to a fundamental human need.
To address this water access gap, Community Engineering Corps, a nonprofit alliance of the American Society of Civil Engineers, American Water Works Association, and Engineers Without Borders USA (EWB), partners communities with volunteer engineers to deliver sustainable engineering projects. We encourage you to learn more about this incredible organization that is at the forefront of implementing local water infrastructure solutions, and read some of their project highlights below:
Independence Village – The EWB Northern Virginia Professional Chapter is working with the Southeast Rural Community Assistance Project to upgrade and improve the water well and distribution system of a small neighborhood in rural Maryland.
Weott Community Services District – The EWB San Francisco Professional Chapter is developing a work plan required by the Regional Water Quality Control Board to determine if a septic drain field is impacting groundwater for a rural community in Northern California.
Cazadero Water Company – The EWB San Diego Professional Chapter is assisting the Northern California water provider with their compliance to regulatory requirements regarding cryptosporidium and corrosion control.
As most of the United States continues to hunker down under stay-at-home orders, a lack of reliable, clean water has made it disproportionally hard for residents in communities long-faced with water access issues, to practice handwashing and home hygiene to curb the spread of infectious diseases. With the help of CECorps and its coalition of volunteers helping local communities get current with water access, we have reason to remain hopeful amidst all the grim noise in the news.
Nossaman's 30-plus infrastructure attorneys offer clients, colleagues, strategic partners and industry media a wealth of practical experience, insider insight and thoughtful analysis here on Infra Insight. We blog about what we know best, from industry-leading procurements to local and national policy developments that affect the market and our clients.
Stay Connected

RSS Feed
Categories
Archives
View All Nossaman Blogs