Financial Close Achieved for Consolidated Rent-A-Car Facility at LAX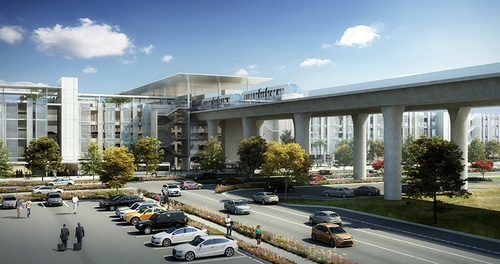 Los Angeles World Airports (LAWA) and LA Gateway Partners, LLC (LAGP), together with equity providers and lenders, achieved Financial Close on the approximately $2 billion consolidated rent-a-car facility (ConRAC) at Los Angeles International Airport (LAX) on December 6, 2018.
LAGP is owned indirectly by funds managed by Fengate Asset Management ("Fengate LAGP US I, LLC", 83.3%) and PCL Investments USA, LLC ("PCL LAGP Partnership LP", 16.7%). After achieving Commercial Close on November 6, 2018, Fengate and PCL proceeded to secure private financing for the project comprised of (a) approximately $458 million in notes due in 2046 issued by LAGP, and (b) a construction loan of approximately $73 million with National Bank of Canada as lender. Fengate and PCL are making equity contributions to the project.
Moody's assigned an A3 rating to the notes based in part on the strength of the availability-based revenue stream from LAWA under the terms of the design-build-finance-operate-maintain (DBFOM) agreement and the fact that PCL Construction Services Inc. (design-builder ), Johnson Controls, Inc. (operator) and MVI Field Services, LLC (Quick Turn Around area (QTA) sub) are experienced contractors. The notes were issued by way of private placement to three life insurance companies (MetLife Investment Management's managed accounts, Legal and General Assurance Society Limited and The Canada Life Assurance Company and its affiliates).
LAWA will contribute approximately $690 million to the capital costs of the project through construction period payments and a final completion payment. Once the ConRAC is operational, LAWA will make availability payments to LAGP, which payments are subject to deductions for unavailability and other failures to meet the performance standards set forth in the DBFOM Agreement.
The ConRAC facility will relocate over 20 existing rental car locations scattered around the airport area into one convenient location adjacent to the 405 freeway. The ConRAC facility will include 6,600 ready/return spaces, 10,000 idle vehicle storage spaces, 1,100 rental car employee spaces and a QTA area that allows for car washing, fueling and light maintenance. The facility will be approximately 5.3 million square feet in size and will be connected to the LAX Automated People Mover (APM), which reached financial close in June.
The ConRAC and the APM projects, slated for completion in 2023, will transform the airport and dramatically improve the experience for travelers at LAX. These projects, with a collective contract value in excess of $7 billion, represent the first two public-private partnerships to be entered into by the City of Los Angeles.
Partner

Andrée Blais advises public agencies in the use of innovative procurement and contracting methods for the development and delivery of major public infrastructure projects in the transportation and social infrastructure ...
Nossaman's 30-plus infrastructure attorneys offer clients, colleagues, strategic partners and industry media a wealth of practical experience, insider insight and thoughtful analysis here on Infra Insight. We blog about what we know best, from industry-leading procurements to local and national policy developments that affect the market and our clients.
Stay Connected

RSS Feed
Categories
Archives
View All Nossaman Blogs