San Luis Obispo Regional Transportation Authority Closes First TIFIA Loan Under Rural Projects Initiative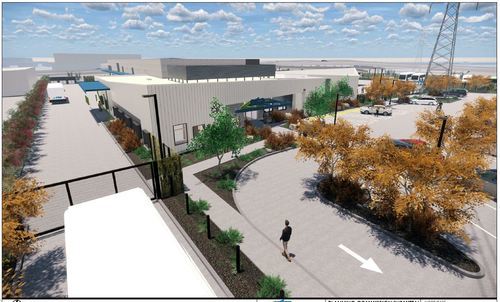 On September 3, 2020, San Luis Obispo Regional Transportation Authority (SLO RTA) closed the first TIFIA loan under the U.S. Department of Transportation's (Department's) Transportation Infrastructure Finance and Innovation Act (TIFIA) Rural Project Initiative (RPI). The SLO RTA manages several local and express fixed-route transit lines, as well as several paratransit and dial-a-ride services throughout San Luis Obispo County located in the Central Coast region of California. The SLO RTA's current administration, operations, and bus maintenance facility has become inadequate to efficiently support the SLO RTA's fleet of more than 90 vehicles. The $13.08 million loan will be used to construct a facility large enough to accommodate their current vehicle fleet and allow room for future expansion; construction is underway. Once complete, the project will provide the SLO RTA with a 28,650 square-foot facility on 6.44-acres of land – a facility three times larger than the current space.
The SLO RTA loan received an interest rate of 0.7% for 35-year financing; SLO RTA pledged its farebox revenue and agreed to deposit Local Transportation Funds (a statewide sales tax for local transit agencies) with a collateral agent to secure its repayment obligation.
The Department launched the RPI program to assist rural communities in overcoming financial barriers that slow infrastructure investment in rural America. Under the RPI, an eligible borrower can receive a loan of up to 49% of eligible project costs at half of the prevailing U.S. Treasury rate for projects located in an area that has a population of less than 150,000, and while funding is available, the Department will cover the cost of its advisor for the loan, which is typically a fee charged to applicants.
Partner

For more than 30 years, clients have relied on Barney Allison for practical and strategic guidance in the public finance and infrastructure fields.

Barney offers public agencies unique expertise with specialized finance issues in ...
Nossaman's 30-plus infrastructure attorneys offer clients, colleagues, strategic partners and industry media a wealth of practical experience, insider insight and thoughtful analysis here on Infra Insight. We blog about what we know best, from industry-leading procurements to local and national policy developments that affect the market and our clients.
Stay Connected

RSS Feed
Categories
Archives
View All Nossaman Blogs